A report from Mark again.  Jenny's follows.
We have been on the move again and we have reached the midway point through the trip. The last four days were spent in Sri Lanka with a "par 6" leg. Such a long leg meant that getting out of the main city of Colombo was not only optional but also necessary in order to do well for that leg.  We left for Colombo on the first day in Sri Lanka.
In the booklet of challenges there are different types of challenges or scavenges. There are approximately 30-40 generic scavenges that I have written about from previous legs. There are typically three to five "mandatory" scavenges which are frequently food related and we are provided a long list with a "do four of eight" type instructions. We also have the global scavenges. Lastly, there are "bonus" challenges that are much more involved and worth higher point values. Our focus for Sri Lanka was on the bonus challenges.
The first bonus challenge that we completed was to go to Anuradhapura and visit a series of relics from the ancient world. One element that was included in this bonus challenge was that we had to take the train from Colombo to Anuradhapura. Some of the trains in Sri Lanka are extremely old and this was one of those trains with a rickety and slow old British rail system. It was hot and muggy on the train. The good news is that we got on an express train which meant the trip was completed in less than 5 hours as opposed to around six. We get off of the train at 8:30 PM and the first order of business was to find a place to spend the night. A man walks up to us and asks if we need a hotel. We said yes, we discussed how much to we wanted to pay, and he said he'd take care of us. We loaded into his van and he drove us off. About five minutes later he was dropping us off at a hotel. This hotel was nice in that it had air conditioning but it was a far stretch from the beautiful hotel we left behind in Colombo. The beds had mosquito netting and the bathroom was minimal. Overall, it was a fine hotel and they also provided breakfast in the morning. From there it was off to see the historic sites and this was done by taking a tuk tuk from one site to the next, fulfilling all of the requirements.
The next challenge was getting to Kandy, which was the location for our second bonus challenge. There are no trains between Anuradhapura and Kandy. Frequently, teams will take a taxi for the 3 1/2 hour drive but we wanted to avoid that expense that could be around $160 for the two of us. We asked the last tuk tuk driver to take us to the bus station. We arrived at the bus station and a coach bus with air conditioning was about to pull out of the parking lot and asked us if we want to go to Kandy for $5 for the two of us. We jumped at the offer and got on the bus. The bus was nice and comfortable, especially for the first two hours. As they added more people onto the bus, the aisle got filled with people sitting and for awhile there were also people standing. On top of that, the driver drove the bus with a crazy abandon continuing to weave around traffic and passing cars whenever possible. The bus ride was a very unique experience and also turned out to be a cheap and efficient way for us to transition to Kandy.
The bonus challenge in Kandy was comprised of seeing and experiencing some of the highlights in Kandy including going to the market and seeing a daily ceremony at the "Temple of the Tooth". We were also focused on making sure that we got to the base of Adam's Peak for an early morning sunrise hike, which was another bonus challenge. We knew this was a time where a taxi was likely the best and possibly only option. We were asking questions with a man we met at the temple. One of the questions was how much would it cost for us to take a taxi. One thing that we discovered was that the rates increase dramatically when people see that we are not from Sri Lanka. Our new friend told us that a fair rate would be about $50 to the base of Adam's Peak. A couple hours later, we saw him again and he said he could arrange a taxi for us and that they could also drive us back to Kandy after the hike for a total cost of about $90. We took him up on his offer and we found ourselves in a van, with limited to no suspension, with two men who would stay over night and wait for us to complete the hike. The drive to the base of Adam's Peak was 3 1/2 hours of twisty, windy, bumpy, and slow roads. We arrived at 11:15, checked into a hotel that makes Motel 6 look nice, and went to bed as soon as possible.
Our night of sleep was limited to about three hours as we woke up at 2:30 AM to begin the hike of Adam's Peak. This hike can be a pilgrimage for some as it is said to be the spot where Budha ascended and left a foot print at the top. The hike is supposed to take 2 1/2 to 3 hours but we went at a fast pace and made it up in about 2. The trail was lit the entire way and there were small booths of people selling food, drink, and souvenirs most of the entire route. Once we reached the top, we waited with a massive crowd of people for the sunrise. Once the sun was above the horizon we started to trip down back to the base. After such an early morning, we spent a quiet hour at the base cleaning up and grabbing breakfast before reconnecting with the taxi drivers for the return to Kandy. Once in Kandy we completed two more activities for the Kandy bonus challenge and then the train back to Colombo. One of the highlights, from this around the world trip, for Jenny will likely be her exchange of written messages for over an hour with 9 year old Sri Lankan girl on the train.
The last day in Colombo was spent squeezing out as many of the remaining challenges that could be completed before the 3:00 PM check-in. At the check-in we learned that our next destination will be Africa. In the evening we had a group dinner celebrating the midway point of the trip. A few hours later, everybody had to re-convene in the lobby to start our journey to Egypt. Today started with an 1:30 AM departure from the hotel, a 4 1/2 hour flight, 1 1/2 layover in Abhu Dhabi, a 3 1/2 flight, and arriving at the hotel at 2:00 PM (we gained 3 1/2 hours of time change in the transit). It has been another exhausting day of travel and we'll be meeting in an hour to receive our booklet of challenges for Egypt and get things rolling again.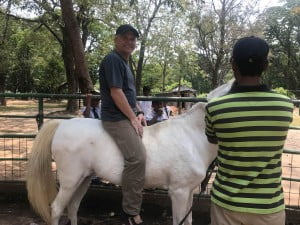 Our trip to Sri Lanka lasted five nights, the longest of any of our challenges so far, and it was considered a "Par 6."
The scoring for the Global Scavenger Hunt is not straightforward and isn't worth explaining, but basically, over the course of 23 days, there are two Par 6's, and they're worth a whole lot of weight in the competition. The Par 1's (like San Fran and Thailand) are worth the least, so we needed to crush this one to stay in the game.
I wasn't looking forward to receiving the scavenge booklet because I knew it was going to take us away from where we were staying, and OH MY WORD, I sure did love our hotel.
It was a little odd at first, like stepping back in time to an old British colonial mansion set in the heart of Sri Lanka. Giant wooden staircases with red velvet carpeting, elevators that barely fit two people, long corridors and side staircases that would lead you mistakenly to the hotel's museum (not that I did that or anything)—even the long, button-down uniforms of the staff screamed, "I'm from the early 19th century!"
But on our first morning in Sri Lanka, as I was headed down to breakfast with laptop in hand, I ran into another person from our group who told me about the breakfast buffet. "It's amazing," he said. "I just spent two hours there. You'll see."
I'll suffice it to say: I didn't get any writing accomplished. The view was like a Hawaiian postcard, oceans and palm trees, with open air seating on the patios, and every breakfast food you could ever want, plus 50 more you never knew you wanted, were there, unlimited before you. English breakfast, American breakfast, Sri Lanken / Indian breakfast, omelets and pastries and yogurts and muesli and nutella and jams and peanut butter…
I had four courses that first day.
Nevertheless, upon reviewing our scavenge booklet, Mark and I knew we'd need to leave Colombo for a couple of nights. We had the option of 15 Bonus Challenges (maximum allowed to complete = five), ranging in points from 175-500, with the highest values taking us farthest away. Here's an example of a bonus challenge, the 500-pointer, the one that Mark and I ended up doing first:
Train to Anuradhapura* and do the following:
You MUST take the train one way, either to or from Anuradhapura, to obtain any points
Visit the sacred tree of enlightenment, explain
Pilgrimage from the Sri Maha Bodhiya, past the Brazen Palace, to the Ruwanwelisaya, be respectful
Once the third tallest structure of the ancient world after the Great Giza Pyramids—visit and explain
Find the moonstones and explain
Get a Team photo atop Mihintale (Note: 200+ stairs)
* say that five times fast
The way you feel reading this today is exactly how we felt reading it on Saturday. Um. Where even IS that?
It turned out to be five hours north of Colombo by train, which we caught at 3:55pm. We left our map inside our hotel room in our haste to pack an overnight bag, so that made strategizing harder. Two of the scavenges involved visiting National Parks, which I would have loved to do, but we eventually found out they were far away and did not make logistical sense given the direction we started with and our limitations.
In the end, we decided to spend two nights "on the road," completing three bonus scavenges, while also working toward the other 47 scavenges listed in the booklet.
It was exhausting.
I'll break this entry into two parts because we covered a lot in five days. This report will be the basics.
First of all, if you're like me and had to look at a globe (or Google Maps) to pinpoint where Sri Lanka is, I'll save you a bit of trouble: it's just south of India. I was hoping to visit New Delhi because my good friend from grad school lives there, but I'm glad we ended up in Sri Lanka because it was so unique from any other place I've visited.
Some adjustments we had to make: no drinking water from hotel sinks. I learned this after I filled up my 32-ounce water bottle in the sink and drank the whole thing. Surprisingly, I was completely fine. I think growing up in New Mexico where we drink radioactive water must have paid off.
Secondly, this is a country that ranges between flushing toilets and squat toilets, which is a real delight when you're carrying a backpack and purse, wearing a scarf as a skirt because your exercise capris are "too tight," and the floor is soaking wet, it's 140 degrees** with humidity, and there's no toilet paper or soap in the bathroom. Let's just say: thank goodness for antibacterial hand wipes.
**based on my degree of perspiration
People indicate "yes," or perhaps more accurately, "okay," by a head bobble that resembles a headshake "no," and is sometimes accompanied by a "No, it's okay." I could never tell what the answer to my question was. It happened a lot when I was asking if it was okay for me to do something, like wear shoes or take a photo, so I would lift my camera and then put it a way, and do a back and forth until I finally realized they were saying I could take a photo.
The population is very devout. Buddhism is the majority; then Hinduism and Islam; and Christianity makes up only a small percentage of the population, although we did visit two Catholic churches, one of which was full of wall to wall people at 11 a.m. on a Tuesday. Much like the Orthodox churches I've seen, where they lay hands on and kiss the icons of Jesus, Mary, and/or the saints, the Sri Lankans do the same. But the Buddhist temples are where you find people of every age praying and making pilgrimages to sacred sites and waiting in epically long lines to lay their hands on Buddha and offer money, rice, and sweets. I couldn't imagine what church in America would look like if that many people took their faith so seriously.
Tuk Tuks are everywhere. They even have a tuk tuk version of Uber. It took us a while to realize just how much they were overcharging us—a lift that would cost a Sri Lankan 300 Rs would cost us 1500 Rs., or maybe 1000 if we bargained. I don't blame them, but sometimes it's preferable to not know.
Markets are nuts. So much fruit. So many people. And these people are carrying huge bags of melons on their bare backs. It's hard to not be in awe of them. Also, fun fact: Sri Lanka has the highest literacy rate in all of SE Asia.
Sri Lanka, in Sandskrit, means "Resplendent Island." There is SO MUCH GREEN HERE. Bill asked us to take a picture of the greenest thing you can find and I think a collage of green things is better.