Happy Valentine's Day to Me
There aren't any flowers or chocolates on any Valentine's Day. There aren't fancy dinners either. There wasn't even a homemade Valentine for me. And I felt loved.
My love language is "acts of service." So John spoke his love for me with a day full of acts of service. What a grand day.
My favorite place to be is in my home. It's an older home in a historic district outside of Washington DC which was lovingly restored by John and three of our kids. Though I do think some days the boys didn't feel like this was an act of service. It was hard work and lots of it. Part of that restoration was restoring the original hardwood floors. John read a book about it (pre-google), tried out a corner and then turned the project over to the boys. In hindsight, this could have gone so wrong!
Terrill was all of 14 with no prior experience running the sanders over these floors. Then we had Jamon put on 17 layers of polyurethane. 17! As he would grumble about it I would keep telling him, it is the time you put into this core job that will make the floors last, just as it will be in your life. You must take the time to do these core things well. Yes, I did turn protecting the floor into a spiritual lesson. The floors are probably the most beautiful part of the house. When the boys now return to visit (why did they have to grow up?!), they still have a sense of pride that this is their work. Because there is so much love in these floors, John is the only one who does the cleaning and oiling of them. This is an act of service every time he does it.
Technically this car registration sticker was to be on my car last November. Yesterday my car was finally "legal."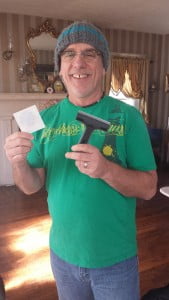 The interior of John's car was cleaned. That may not sound like it was for me but it was I who put Louie in the car after a muddy walk. How could these little feet cause so much dirt on white leather?!
Finally my Brad Johnson personally autographed football was placed in its permanent location. This is my second most prized sports memorabilia. Anyone in my family will share with you why I cherish this Brad Johnson autograph so much. Particularly that it was addressed to me, Vikesqueen! Around 5 years ago our friend Steve did the footwork to give me this prized possession. Finally this year for Christmas I received the case for it. Don't ask me why it took 5 years to get this prized possession under protection. I don't have an answer. And finally it is hung in its permanent location for everyone to see that Brad Johnson knows my name.
We also hung up some other sports memorabilia I was given for Christmas in our sports room. This only took two months.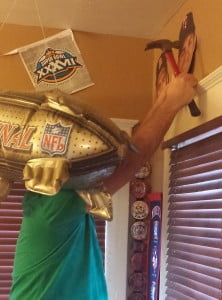 These are Christmas crates which have been hanging around since Christmas. Such a good feeling to have Christmas completely put away…for Valentine's Day.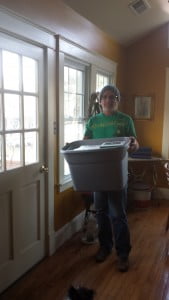 I hope you aren't thinking that I sat around all day on my "throne." I cooked, did laundry, and cleaned. We have a 1925 house. There is always something to do. With my low opinion of Valentine's Day, it is a-okay that it was a normal chore day because in the midst of it there was a lot of love spoken.
Read the book
A small book about being the people that hurting people need.
"This is the book that I wish I had had for people in my life that have suffered and needed me to be that compassionate friend. This is the book that I wish others in my life had read before they dismissed my pain, or compared it to theirs, or stumbled horribly through trying to lessen my pain because it was actually really about THEM not feeling comfortable with it."
Order here: https://bravester.com/new-book-from-bravester/