Pain is the Beginning. And Time is a Necessity.
Big fat truth in that captured photo. Pain is the beginning. And time is a necessity.
Ugh. I want this over now!!!!
Day by day the Lord takes care of the innocent, and they will receive a reward that lasts forever. They will survive through the hard times; even in famine they will have more than enough. Psalm 37:18-19. Day by day = time. God is faithful to deliver us. The Bible is full of this promise. I've got a faith of over 40 years that proves this promise. Which is why I also know this: time is involved. Time takes time and can't be done now.
Ugh truth.
Continue reading more of Psalm 37. Be still in the presence of the Lord, and wait patiently for Him to act. Psalm 37:7a.
Ugh.
Don't be impatient for the Lord to act! Travel steadily along His path. Psalm 37:34a.
But I am impatient. The waiting takes bravery because waiting also requires vulnerability. Which is why we hate it so. We would rather scramble to fill the discomfort of this vulnerability than to fill the gap with trust.
Then move to Psalm 38. You know what I long for, Lord; You hear my every sigh. Psalm 38:9
My every sigh…for sure! I am not timid to hold back.
Then Psalm 40. I waited patiently for the Lord to help me, and He turned to me and heard my cry. He lifted me out of the pit of despair, out of the mud and the mire. He has given me a new song to sing, a hymn of praise to our God. Psalm 40:1-3a.
Time. Waiting. Then beauty. The beauty is because God is personal with me. He gives me a new song, my own song.
More of Psalm 40. For troubles surround me—too many to count! My sins pile up so high I can't see my way out. They outnumber the hairs on my head. I have lost all courage. Please, Lord, rescue me! Come quickly, Lord, and help me. Psalm 40:12-13.
Come quickly, Lord? Ha! And that is a sarcastic ha! God doesn't move quickly. I hurt. And continue to hurt. I pray. And continue to pray. I trust. And continue to trust. Time passes as I hurt, pray, and trust. It feels like too much time.
More of Psalm 40. As for me, I am poor and needy, but the Lord is thinking about me right now. You are my helper and my savior. Do not delay, O my God. Psalm 40:17.
Do not delay? Ha! I have prayed that prayer because I have felt at the end of me, at the end of what I could endure. Or more true lately, how many years must I pray for the same thing?!!! It's the same prayer of faith over and over and over. Time has happened. A lot of time.
Psalm 41 is a snarky psalm. It's a list of valid complaints against God which closes with Praise the Lord, the God of Israel,who lives from everlasting to everlasting. Amen and amen! Psalm 40:17. Is time measured in everlasting to everlasting?
Psalm 42 continues. Day and night I have only tears for food, while my enemies continually taunt me, saying, "Where is this God of yours?" My heart is breaking as I remember how it used to be. Psalm 42:3-4a.
Day and night = time. Time is happening while my heart continues to break. Like God is okay with my heart breaking. But then I remember this truth. I must remember this truth. Every day. This is why I love Jesus so and am caught up in this Jesus Way.
Honest confession though. It is so hard to remember this truth when time feels like it is moving so slow.
More Psalm 42. Why am I discouraged? Why is my heart so sad? I will put my hope in God! I will praise him again–my Savior and my God! Now I am deeply discouraged, but I will remember You–even from distant Mount Hermon, the source of the Jordan, from the land of Mount Mizar (even from my exasperated heart, broken soul, and the distance I feel from God). I hear the tumult of the raging seas as your waves and surging tides sweep over me. But each day the Lord pours His unfailing love upon me, and through each night I sing His songs, praying to God who gives me life. Psalm 42:5-8.
And there it is. This beautiful verse in Psalm that mesmerized me as a new 15-year old Christian. The one I drew over and over again (when I was much more of an artist with colored pencils).
But each day the Lord pours His unfailing love upon me, and through each night I sing His songs, praying to God who gives me life.
Each day I get to live in this beauty. This verse is beautiful. This verse is beautifully true about me…for me. Each day = time. Each day God is actively involved in my life. Each night God whispers His love to me again and again—particularly because it is at night when my head is on the pillow yet I am not asleep and the noises of life have stopped for those final moments and I can hear God whisper to me. I've learned to pay attention to those final moments of sleep because they are very personal. Each night this personal song God has for me becomes my lullaby.
Time is a part of healing. God could wham bam heal a situation. He could. Yet He chooses to use time to be a part of it. It is his tool to heal. Why? Many theologians have argued why does God allow suffering. I have wrestled through some of my thoughts on this and have found some peace—because wrestling with God always leads to deep peace. This is one thing I remind myself of often—God is dealing with millions of broken hearts whose broken hearts hurt other broken hearts and there is a ripple effect going back generations. To fix my broken heart time is needed to also fix the broken hearts I've hurt and to fix the broken hearts from generations ago who have hurt me. In the midst of all this, this I know:
But each day the Lord pours His unfailing love upon me, and through each night I sing His songs, praying to God who gives me life.
Each day. Each day = time. And one day time does pass…like a kidney stone.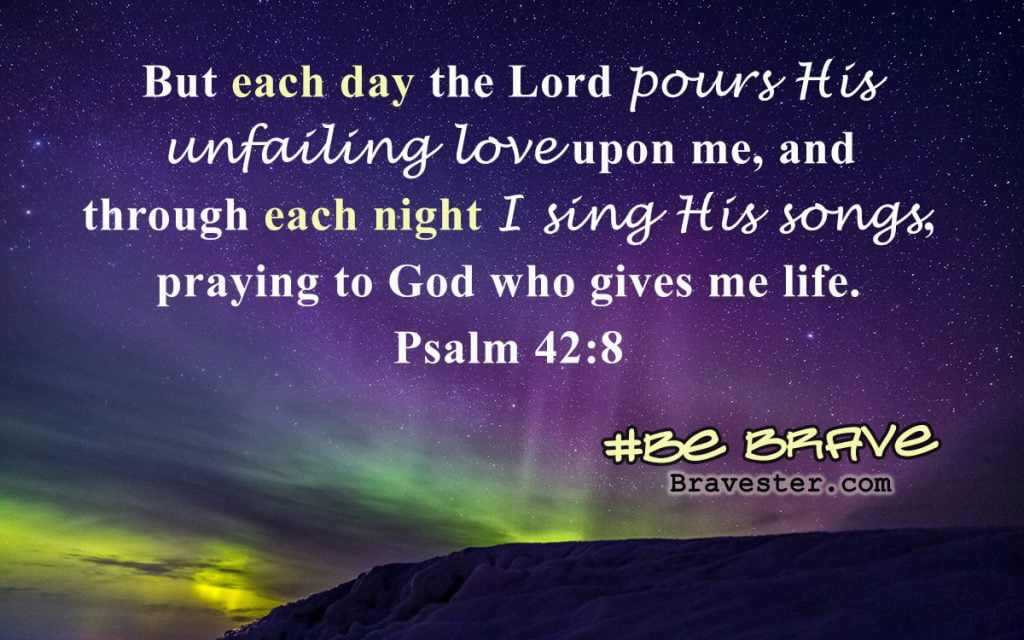 Read the book
A small book about being the people that hurting people need.
"This is the book that I wish I had had for people in my life that have suffered and needed me to be that compassionate friend. This is the book that I wish others in my life had read before they dismissed my pain, or compared it to theirs, or stumbled horribly through trying to lessen my pain because it was actually really about THEM not feeling comfortable with it."
Order here: https://bravester.com/new-book-from-bravester/