A random church renovation led to a story that captured the heartstrings of many people.
Holy Trinity Church in Sunderland, England, was undergoing a renovation. A church has not met in that space since 1988. Stuffed down the side of one of the pews was a note written 125 years ago. It was written by a 13-year old choir boy who was orphaned. William Elliott on August 11, 1897, wrote on the back of an order of service this note as a request to not be forgotten.
I love teen boys. They simply want to be seen. We all want to be seen–and hopefully remembered.
The note said:
Dear friend, whoever finds this paper, think of William Elliott who had two months and two weeks and four days on the 11 of August 1897. Whoever you are that finds this paper don't tear it up or throw it away… keep it in remembrance of me, W. Elliott…I was the leading boy of this choir… I love you if you love me.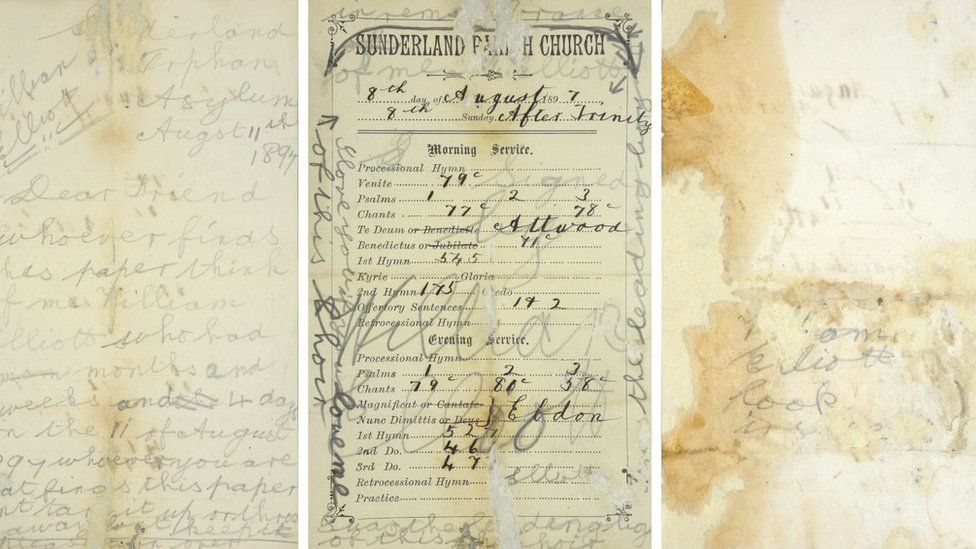 This was stuffed down the side of one of the pews because here in this church this orphaned boy wanted to be seen and remembered by someone. I believe that here in this church he was seen.
"I love you if you love me." This is the cry of a wounded boy's heart. This is the cry of everyone's wounded heart.
This pulls at my youth-pastor-heart. This pulled at many people's hearts because this story went viral.
William came to live in Sunderland Orphanage Asylum after his father was washed overboard in 1887 and his mother could no longer take care of him. He lived at the orphanage from 1892 to October 29, 1897—which was his 14th birthday. This birthday was just weeks after he wrote his letter, stuffed it, hoping that someone would remember him because he knew he would be gone.
Of course, people started researching now to see what became of William Elliott. This is not my research. I'm one of the hooked ones who have been following this story.
Two years after William's release from the orphanage, he followed his sister to immigrate to New York when he was 19. He soon enlisted in the US Navy. This led to a 42-year career, serving in both World Wars.
William had two children, eight grandchildren, and was married three times. His first two wives left him a widower. At the age of 84, William died in a San Diego rest home in 1968 and was buried at Arlington National Cemetery in Washington DC. In Arlington National Cemetery he will never be forgotten. Source.
Did William's innate desire to become someone lead to his 48-year honored Navy career? Is this what drew him to the Navy? So many questions we could have asked if this note was found a hundred years ago or even 60 years ago.
It is hard growing up as a teen boy. Not that I would know but I've seen thousands of teen boys in four decades as a youth pastor. Their antics, their silliness, their respectfulness (I have received this sooooo much), and their farts are all an effort to be seen hoping that someone will say to them, "You are going to be a good man."
I want to be that person. I particularly want to tell parents to be that person.
Parents, tell them. Tell them that adolescent development and all the extras that come with it are temporary. Tell them they are not stupid, just developing. Give them a good foundation. Tell them that they are good and will grow into good men. Bring them around a circle of good men so they can observe all the details of how to be a good man.
I wrote these expectations I have for teen boys. Parents, use this.
I'm sure this is why I ended up raising four boys, who are now all over the age of 40. I'm still telling them they are good men.
I'm sure this is why I'm in contact with many graduated teens who are now men. They are either still seeking this from me or keep reaching out to show me that they are good men. They are good men. This is why I love being a youth pastor.
May you–and may our churches–see the wonder of teen boys and remember them.
May our teen boys know this so much they won't have to write a note, hide it in a pew, and hope someone remembers them.
Read the book
A small book about being the people that hurting people need.
"This is the book that I wish I had had for people in my life that have suffered and needed me to be that compassionate friend. This is the book that I wish others in my life had read before they dismissed my pain, or compared it to theirs, or stumbled horribly through trying to lessen my pain because it was actually really about THEM not feeling comfortable with it."
Order here: https://bravester.com/new-book-from-bravester/