To the One Who Can't Get Out of Bed This Morning…
Good morning. I know…the morning doesn't feel good. You feel too much actually. You certainly feel too much dread. So much dread that you don't believe you have the strength to get out of bed. Just doing that is too much. You feel the responsibilities you have to do today. Those responsibilities just add to your dread. You are overwhelmed and the decision that seems easiest is to just stay in bed. That is the only decision you can handle right now.
I've been here too.
I want you to know that your pain is real. It hurts. It hurts so much that you don't feel like you can get out of bed this morning. But I am asking you to.
A brave life is brave decision upon brave decision upon brave decision. Even the little ones such as the decision to get out of bed today. This is a brave decision. You are risking some vulnerability to make at least one of your responsibilities today. I am here urging you to do this.
Good morning. You get another day. God believes in you.
You may believe that you believe in God but the relationship starts because it is God who believes in you. Every morning when that sun rises and you also get to rise–that is God saying He believes in you. That He is still holding on to you. That you are worthy of another day of life.
God's love can be defined as a pursuing force that is not dependent upon my response back. God is going to continue to pursue and love and give you another day because He is love. We love each other because He loved us first. 1 John 4:19. God believes in you. You can now somehow love the others in your life. Get out of bed.
Yes, I know. It feels like God has abandoned you. How could He let you hurt this bad? Why did He not intervene to stop what happened? This is definitely beyond what you can handle (a wrong variation of 1 Corinthians 10:13 by the way). Have you screamed "God, this is more than I can handle and You said You wouldn't do this to me!" more than once? Or was that just me.
Today is too much to handle though. Even though God gave you breath for today because He believes in you. So how about this? How about you try to imitate Jesus in this moment? Is this a brave decision you can try? Try???
In the Garden of Gethsemane Jesus prayed out (I imagine Him yelling like I yell), "My soul is crushed with grief to the point of death." Jesus' soul was crushed beyond what He could bear. He had it out with His Father in that garden prayer and then decided, v. 44-45, "So he went to pray a third time, saying the same things again. Then he came to the disciples and said, "Go ahead and sleep. Have your rest. But look—the time has come." The day continued on with His participation in it.
Thank God Jesus participated in the rest so that we can have our hope! But that is a whole other article.
When I said "how about you try to imitate Jesus in this moment?" I'm sure you thought I meant a much holier, more at-peace Jesus. Like to imitate Jesus is unattainable. Wrong. It is attainable. Even in this pain because He understands our pain. This High Priest of ours understands our weaknesses, for he faced all of the same testings we do, yet he did not sin. So let us come boldly to the throne of our gracious God. There we will receive his mercy, and we will find grace to help us when we need it most. Hebrews 4:15-16. Today you need it most!
You are not alone.
You are not a failure. Your faith is not weak.
Lead your brain. Cling to this truth. So God has given both his promise and his oath. These two things are unchangeable because it is impossible for God to lie. Therefore, we who have fled to him for refuge can have great confidence as we hold to the hope that lies before us. This hope is a strong and trustworthy anchor for our souls. It leads us through the curtain into God's inner sanctuary. Hebrews 6:18-19.
This promise says you can have great confidence. Today we will take some confidence. Anything. Good morning. You get another day. God believes in you.
The pain is real. Yet God believes in you to give you this day. Rise up. The world needs the heartbreak you risk. Today the risk feels bigger than ever yet you can do this. Truth is on your side and it is impossible for Truth to lie.
And know this also–you are heard. Psalm 18:6 – But in my distress I cried out to the Lord; yes, I prayed to my God for help. He heard me from His sanctuary; my cry to Him reached His ears.
p.s. Does the picture of a cute kitten also help you today?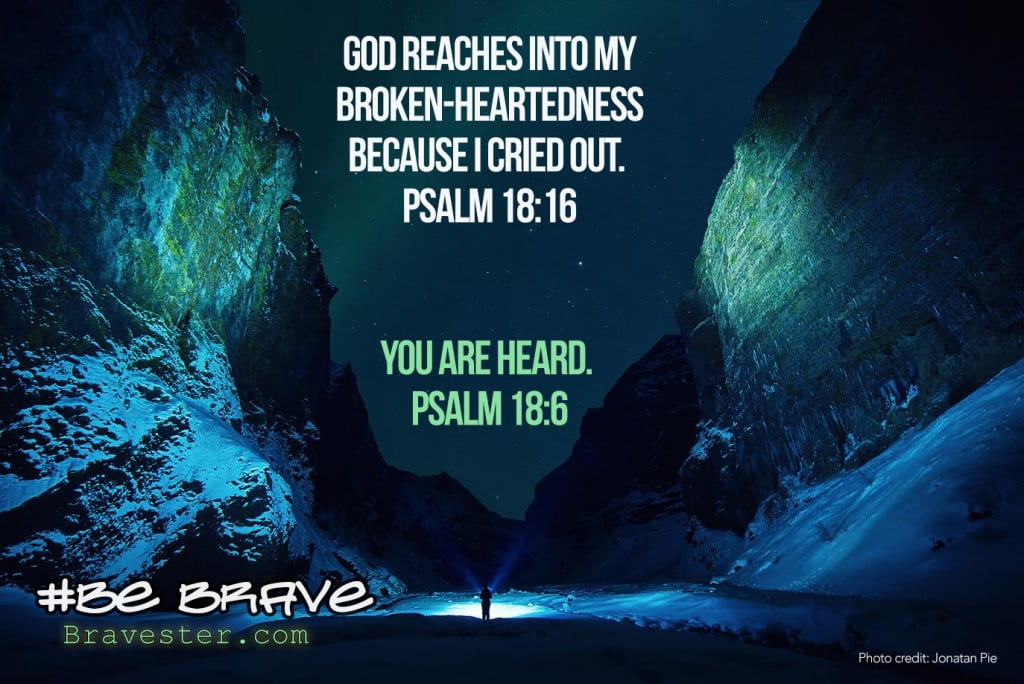 Read the book
A small book about being the people that hurting people need.
"This is the book that I wish I had had for people in my life that have suffered and needed me to be that compassionate friend. This is the book that I wish others in my life had read before they dismissed my pain, or compared it to theirs, or stumbled horribly through trying to lessen my pain because it was actually really about THEM not feeling comfortable with it."
Order here: https://bravester.com/new-book-from-bravester/