We'll Always Be a Mix of Fear and Faith (This is a brave truth)
"I know one thing I want," Meg sighed. "I don't want to be afraid anymore. But I've been afraid for so long, It's in the air I breathe. I just don't know how to get rid of my fears, Katherine. And I need to get rid of my fears so I can follow Jesus."
Katherine smiled kindly. "Lay that burden down, dear one," she said. "We'll always be a mix of fear and faith."
Meg furrowed her brow in bewilderment. That wasn't the answer she had expected. She had thought perhaps Katherine would give her a strategy for overcoming her fears so she would be able to travel more freely and lightly with Jesus. "You mean I'm not supposed to try to get rid of my fears?" she asked. That didn't make sense. Wasn't the Bible filled with commands about not being afraid? Meg had broken all those commands.
"Faith isn't about not being afraid, Meg. Faith means we trust God, even when we are afraid. Especially when we're afraid." Katherine peered at Meg with intense gentleness. "Don't worry about trying to rid yourself of your fears," she said slowly. "Instead, let your fears do the hard work of revealing deep truths about yourself. Our fears can be windows into the raw and unvarnished truth of our lives. We don't cling to them or feed them, but we do listen prayerfully to what they teach us. We ask God what the fear is revealing about who we are and what we lack. We bring our fears into the light of God's healing love, offering them up to God as an expression of our weakness and our need for him." She paused. "Even our fears become opportunities for encountering Jesus, if we let them draw us close to the Lord."
The silence in the room became a soft-knit cloak, wrapping and enfolding Meg in comfort. She had never once considered that her fears could be anything other than an obstacle to faith—a persistent source of shame and regret. She had never considered the possibility that her fears could actually become an opportunity for deeper intimacy with Jesus. –Sensible Shoes: A Story About the Spiritual Journey, Sharon Garlough Brown, p. 148
This is an excerpt out of an encouraging fiction story. Meg is one of the main characters and Katherine is the spiritual director who is on the periphery of growth in all four of the ladies in this story.
Fears lie. Fear presents this illusion that you are actually doing something to control the outcome of the situation when really fear is an adrenaline-junkie exhausting you, keeping you in a frenzy, and a persistent source of shame and regret. Because, really, can't you just "let go and let God?"
In all of this I wish I could grant you the vulnerable fruit of the Spirit of peace. If we are going to stop the adrenaline-rush of fear it would be nice to walk daily in peace. Alas, too many emotions are involved for that! Peace that is beyond our understanding (as the Bible promises in Philippians 4:7) is what it is. It is beyond understanding! In those scarier, darker moments when I trust the Promiser because I know God is for me, then peace seeps in.
The rest of the time I am living with a mix of fear and faith. The rest of the time…do you realize how much time that is?!
And still living slightly braver. Because it is true that these fears are opportunity for deeper intimacy with Jesus.
Fear is an adrenaline-pusher that produces nothing good. Then add anxiety to it all. Max Lucado—using his words which usually lead to healing and wisdom which is why he is a bestseller—defines anxiety as this (and it is different than fear):
Anxiety is trepidation.
It's suspicion, an apprehension. Life is in a minor key with major concerns. Perpetually on the pirate's ship's plank.
You're part Chicken Little and part Eeyore. The sky is falling and it's falling disproportionately on you.
As a result you are anxious. A free-floating sense of dread hovers over you, a caul across the heart, a nebulous hunch about things…that might happen…sometime in the future.
Anxiety and fear are cousins but not twins. Fear sees a threat. Anxiety imagines one.
Fear screams, Get out!
Anxiety ponders, What if?
Fear results in fight or flight. Anxiety creates doom and gloom. Fear is the pulse that pounds when you see a coiled rattlesnake in your front yard. Anxiety is the voice that tells you, Never, ever, for the rest of your life, walk barefooted through the grass. There might be a snake…somewhere.
…One would think Christians would be exempt from worry. But we are not. We have been taught that the Christian life is a life of peace, and when we don't have peace, we assume the problem lies within us. Not only do we feel anxious, but we also feel guilty about our anxiety! The result is a downward spiral of worry, guilt, worry, guilt. –Max Lucado, Anxious for Nothing, p. 4, 8
Ponder the depth of this statement and the depth of you: "We have been taught that the Christian life is a life of peace, and when we don't have peace, we assume the problem lies within us. Not only do we feel anxious, but we also feel guilty about our anxiety! The result is a downward spiral of worry, guilt, worry, guilt."
Instead of living slightly braver, we punish ourselves for this downward spiral.
When the truth is even anxiety provides opportunity for deeper intimacy with Jesus.
How you ask. Because you want to stop this downward spiral that causes you to hate you and not want to be seen by others.
Trusting the Promiser. That exposes your vulnerability. This vulnerability is scarier than the fear you are addicted to and the anxiety that comforts you.
Also, find the bravery to connect to others. Maybe because I'm a pastor I know this to be true so often. Maybe because I'm a pastor I get to see this truth firsthand so often.
Just this past Sunday I had a new mom share with me her anxiety. It is the stuff most mommy blogs are about but it is her stuff and her navigating this new life and all of the fears and aloneness she feels. She was brave enough to approach me on a Sunday morning, pull me away from the crowds, and share all of this with me. It was honest and raw and full of truth. She was not making anything up. And I think that is what she gained the most from our talk.
I told her she was not making any of this stuff up. Even though the mommy blogs were telling her she was okay, she needed to hear it from flesh-and-blood and eye-to-eye. After sharing her fears and frustrations we prayed together. It wasn't a "bow your head, eyes closed" prayer. I prayed looking into her opened eyes the very truths she told me as she was sharing her fears and frustrations. It was a moment.
And now I know. When I message her this week she knows I know. When I see her next Sunday we will look at each other eye-to-eye and she will know that I know and she will not feel as alone. And this will lead to deeper intimacy with Jesus.
Notice how I said the bravery to connect to others. There is vulnerability involved in this. It is easier not to. It is easier to read this article and feel the connection and believe that it is enough. But if you can find that one person or that small group, you are not as alone in that fear that you are addicted to.
When two people relate to each other authentically and humanly, God is the electricity that surges between them. –Brene' Brown, Daring Greatly: How the Courage to Be Vulnerable Transforms the Way We Live, Love, Parent, and Lead
This brings it all together, doesn't it? Meg in the fiction story (which is also your story) warmed with the truth that her mix of fear and faith didn't have to shame her but actually grew her faith. All because she found a trusted person to expose that truth to. God was the electricity that surged between them and shame was exposed and faith grew.
I love it when shame is exposed. Shame loves secret keeping. Trusting another one with these crazy and real thoughts of yours ends that secret keeping. The downward spiral can stop. You can see God's personal involvement in your life so much better.
So yes, the truth is all of our lives is a mix of faith and fear. It takes bravery to live that life.
Be brave.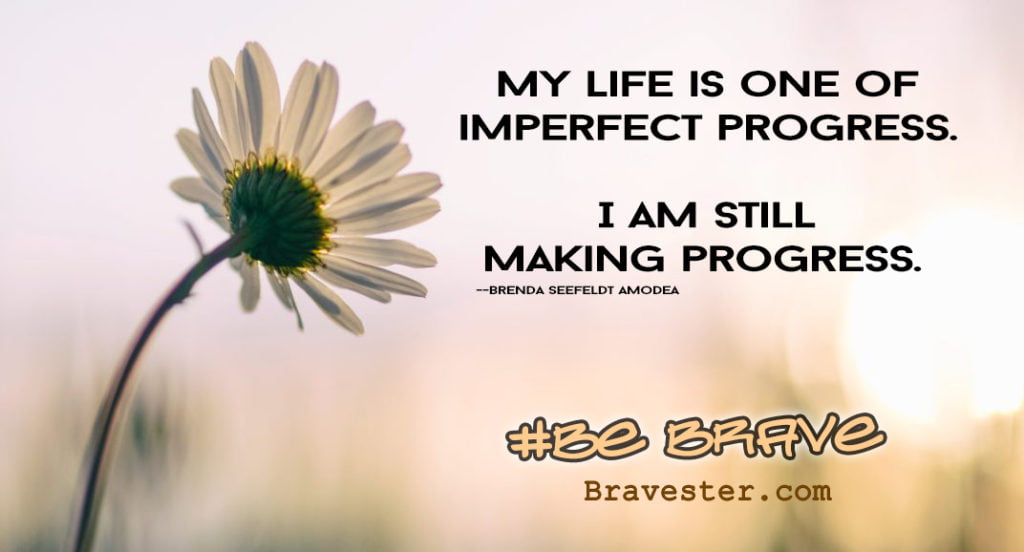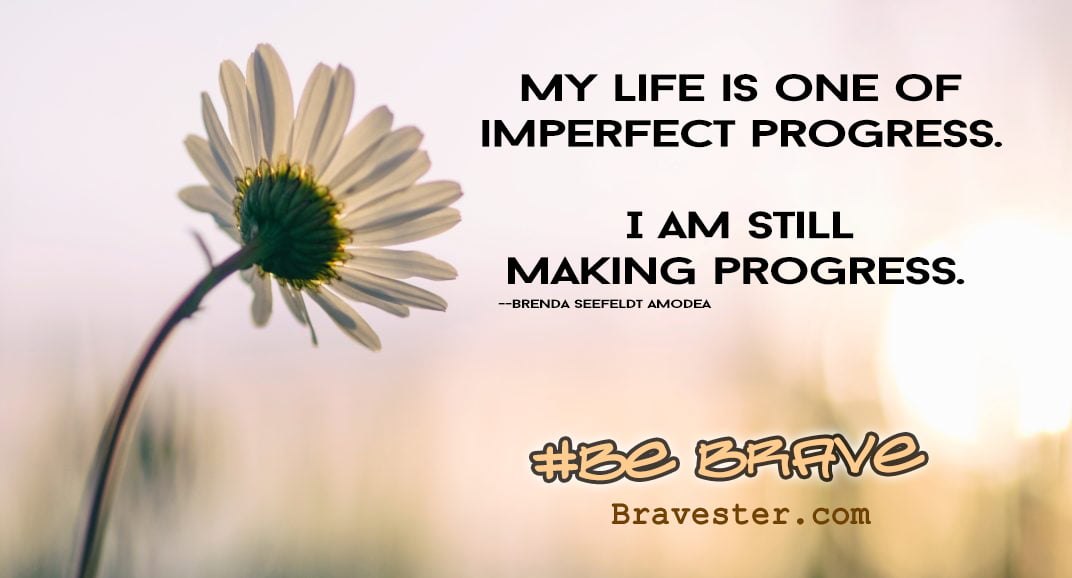 (photo credit: Pexels.com)
Read the book
A small book about being the people that hurting people need.
"This is the book that I wish I had had for people in my life that have suffered and needed me to be that compassionate friend. This is the book that I wish others in my life had read before they dismissed my pain, or compared it to theirs, or stumbled horribly through trying to lessen my pain because it was actually really about THEM not feeling comfortable with it."
Order here: https://bravester.com/new-book-from-bravester/