Awkwardly Praying My Pain with Psalm 143
v. 1 – Hear my prayer, O Lord; listen to my plea! Answer me because you are faithful and righteous.
My desperate prayers generally sound the same. Help! Hear me! Now! I rarely pray complete sentences, especially when I'm in pain.
Sometimes I will throw in some flattering words to God mostly because I do believe God is good and will hear my prayer. I am pleading my desperate prayers to God because I do believe God is faithful and righteous.
I know some of you do not believe God is good. You also pray such desperate prayers because life…right? But you don't really know if God is good or if God is really listening. You keep praying the desperate prayers anyway because you don't know what else to do. And because maybe maybe maybe if you pray enough, maybe if you say the right combination of words, maybe if you bargain enough, then God will listen.
Because you—and I—don't know what else to do but pray desperate prayers. We need supernatural help.
v. 2 – Don't put your servant on trial, for no one is innocent before you.
In my desperate situation that I need supernatural help for, why would I pray that I won't get put on trial? I can't even get a sentence out.
So do I believe that I caused this? Do I believe that I wasn't good enough, or trying enough, or praying enough, or wise enough and could have prevented this desperate situation from happening? Do I believe that I had some control over this situation?
v. 3 – My enemy has chased me. He has knocked me to the ground and forces me to live in darkness like those in the grave.
I need to remember that I do have an enemy. What is going on right now is not God's fault. It's not my fault because I wasn't enough. I have an enemy who wants to destroy me.
It is easier to blame God or to blame myself than to realize the scary realization that the enemy wants to destroy me. John 10:10 says The thief's purpose is to steal and kill and destroy. My purpose is to give them a rich and satisfying life.
Suffering is spiritual warfare. Suffering causes me to entertain crazy thoughts that would lead to future regrets. Suffering will either grow me or it will weaken me. Suffering is the battleground for my soul.
My enemy loves to keep me in the darkness but this I have learned: God is also there in the darkness. This is the promise:
And I will give you treasures hidden in the darkness–secret riches. I will do this so you may know that I am the Lord, the God of Israel, the one who calls you by name.

Isaiah 45:3
In this desperate time, I need those secret riches.
v. 4 – I am losing all hope; I am paralyzed with fear.
Even though I know God is in the darkness with me and I know my enemy is out to destroy me, I am still losing all hope. I am still paralyzed with fear.
Knowing this truth isn't enough right now to shut off my brain which is full of so many scary thoughts. This is truth. This is why I have my people whom I have asked to carry me.
v. 5 – I remember the days of old. I ponder all your great works and think about what you have done.
This is why I practice gratitude. I practice gratitude before the tragedy hits so I can practice gratitude during the tragedy.
v. 6 – I lift my hands to you in prayer. I thirst for you as parched land thirsts for rain.
Do I trust God enough to thirst for him now as parched land thirsts for rain? Or does this just read pretty as I keep my view of God small?
Because to trust a bigger God means I have to trust God. Now. When I'm in so much pain.
Prayer is my attempt to trust God to do something. My rambling, confusing, and selfish prayers–which I minimize because it is easier to hate on my efforts of prayer than to trust God to answer my prayers. It is easier to declare that I am not a good prayer person than it is for me to actually trust God to hear me and answer my prayers.
This is a continual struggle.
v. 7 – Come quickly, Lord, and answer me, for my depression deepens. Don't turn away from me, or I will die.
My depression deepens. I have got to beg God to do something to help me. No matter how much I struggle with my awkward prayers.
v. 8 – Let me hear of your unfailing love each morning, for I am trusting you. Show me where to walk, for I give myself to you.
Each new day gives me a chance to be a little bit better. Perhaps something good will win the battle for the fear that keeps my brain paralyzed. Perhaps I will remember again what God's unfailing love means to me.
The Hebrew word for "unfailing love" here is khesed. Khesed love is generous and loyal. I really really need a generous and loyal outpouring of God's love…right now.
It sure is easier to trust a generous and loyal God too.
v. 9 – Rescue me from my enemies, Lord; I run to you to hide me.
There is the enemy (whom I refuse to capitalize) and then there are enemies that the enemy uses to destroy us. I need to be hidden because I am so vulnerably ripped open right now. Psalm 144:1-2 (the next Psalm) begins with Praise the Lord, who is my rock. He trains my hands for war and gives my fingers skill for battle. He is my loving ally and my fortress, my tower of safety, my rescuer. That is who I need to hide me.
v. 10 – Teach me to do your will, for you are my God. May your gracious Spirit lead me forward on a firm footing.
There's that generous God again.
v. 11 – For the glory of your name, O Lord, preserve my life. Because of your faithfulness, bring me out of this distress.
Here's my begging prayer again. I'm sure I will pray this way again. And again.
v. 12 – In your unfailing love, silence all my enemies and destroy all my foes, for I am your servant.
Unfailing love. Generous love. Loyal love. God does not fail me. God's love towards me does not call me a failure. I am dependent on this Savior. Amen.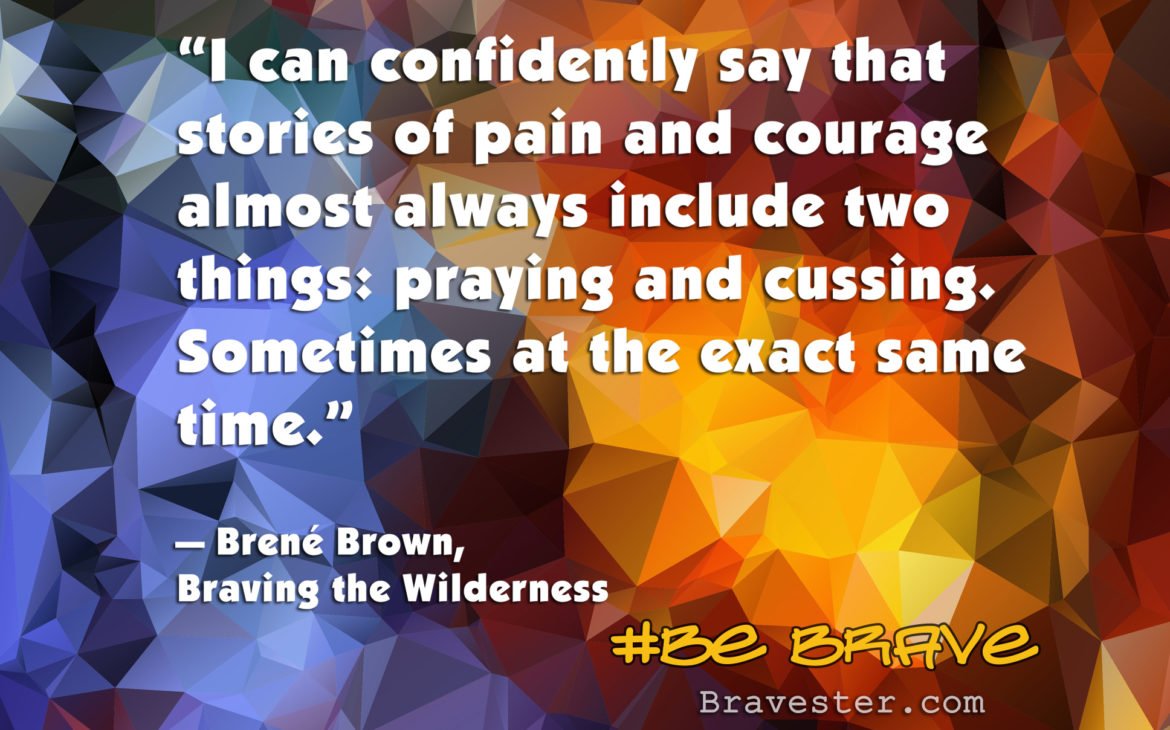 (Photo credit: by Samuel Martins on Unsplash)
Read the book
A small book about being the people that hurting people need.
"This is the book that I wish I had had for people in my life that have suffered and needed me to be that compassionate friend. This is the book that I wish others in my life had read before they dismissed my pain, or compared it to theirs, or stumbled horribly through trying to lessen my pain because it was actually really about THEM not feeling comfortable with it."
Order here: https://bravester.com/new-book-from-bravester/