Being a Whole and Unique Person Before and After Marriage
What is 'singleness?' What does it mean to be single?
Any dictionary definition will have these words, or synonyms for them: 'to be separate, unique, and whole.'
Would you like to stop being whole or a unique person? Would you like to lose your identity? Of course not. So what is the problem with singleness?
There is no problem. The problem is with our definition, which has been given to us by a cultural socio-economic system under the rulership of satan, the god of this 'world order.' (2 Corinthians 4:4). The world's definition which the Church has adopted, opens the door to hurt, rejection, and even self-hatred.
We have confused singleness with "being alone."
Will there ever be a time, and has there ever been a time when you will cease to be "separate, unique, and whole?' Should there ever be a time when you cease to be a single being who is unique and whole? If your answer is 'no,' then the next question is: Does getting married do away with this definition of being single? When you marry, do you stop being a single individual who is unique and whole? Myles Munroe, Single, Married, Separated, Life After Divorce, p. 12
This is so good. You may hear about it from me for quite a while. On the same day I read that I read this Babylon Bee story:
LYNEL, TX—Judy Birch has been a proud member of Flying Solo, the Singles Ministry at First Baptist Church, for twelve years, but was finally promoted to a real Christian after getting married this weekend.
"We'd like to welcome Judy to real Christianity and the actual church now," Pastor Judd said at a special welcome luncheon. "After years of pretending to be a Christian in our singles ministry, she's ready to join the big leagues."
"Way to go Judy!" he added as the crowd cheered.
The church presents each member who graduates the singles ministry and joins the church's actual ministries with a gift Bible, a devotional, and a commemorative plaque, with church leaders confirming that of their 150-200 singles each year, only a few are able to escape the purgatory of singles' ministry and make it into the Kingdom of God.
"Judy's our first convert to the actual faith this year, so we're excited to see if we see an uptick in conversions from singles ministry members to Christian converts," the pastor said.
As part of her induction into the faith, Birch will be expected to host several small groups, contribute to the upcoming bake sale, and pump out at least five kids to support the church's aggressive growth strategy, sources confirmed.
You do know that Babylon Bee is a satirical website making fun of Christians. And like good satire, there is some element of truth to it. There is some truth to this story, isn't there?
The Church does idolize marriage. It does. The late Myles Munroe called that idol under the rulership of Satan. But it's too easy to just blame the Church here. You do this too. You, by your own doing, are living this half-life, this half-life of giving your life to the world in service, waiting until the day you can get married and do this happily ever after with your partner. Blame the church but you must also blame yourself. You are being called out on it.
Living your life to the full starts now. You need to be this separate, unique, and whole person. First of all because the world needs the heartbreak you risk. Secondly, this is the person that will attract a good match to you. This truth is so true:
Live your life to the full bravely following after Jesus. Now. As you are living bravely, who is keeping up with you? That is the match for you.
Do you know what is also true? That you are a worthy separate, unique and whole person. You are God's masterpiece even if you don't feel like it. You are one in 10 2,685,000, as is scientifically proven.
Do the words separate, unique and whole describe you? Let's start and end with this question, for now.
Then read: The "I" in "I Do"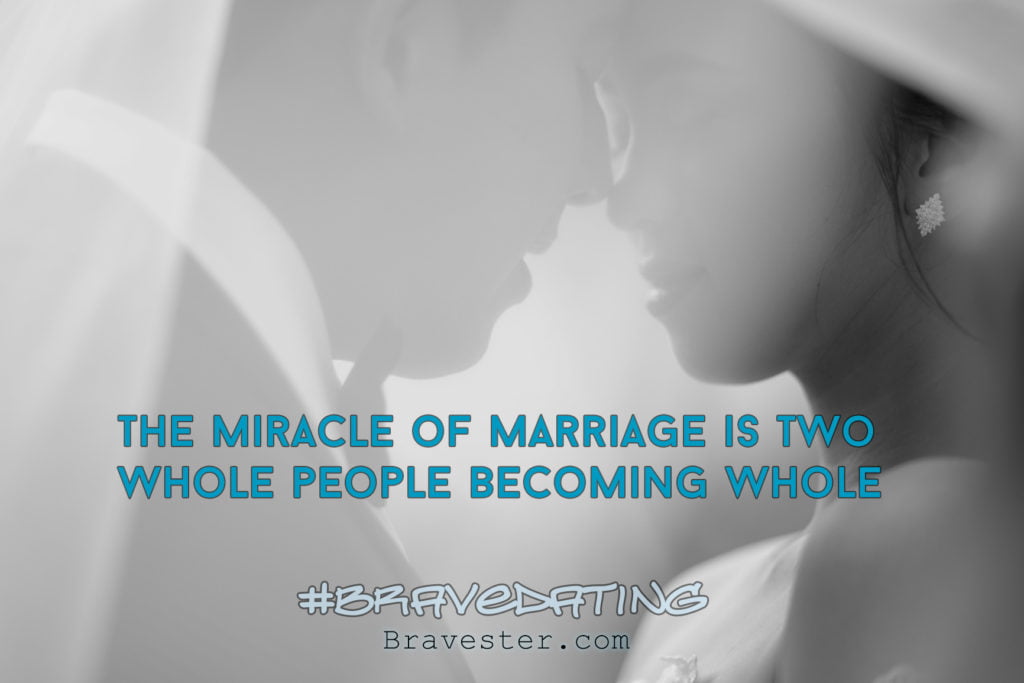 Read the book
A small book about being the people that hurting people need.
"This is the book that I wish I had had for people in my life that have suffered and needed me to be that compassionate friend. This is the book that I wish others in my life had read before they dismissed my pain, or compared it to theirs, or stumbled horribly through trying to lessen my pain because it was actually really about THEM not feeling comfortable with it."
Order here: https://bravester.com/new-book-from-bravester/