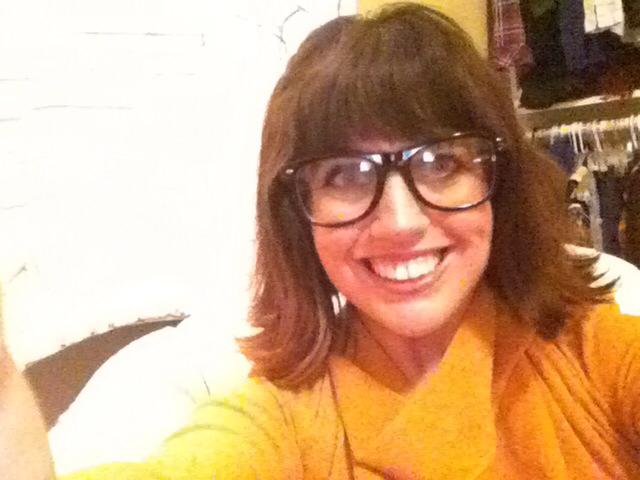 A sentence in my Facebook stream from a grown youth caught my attention—and stuck with me for hours. She posted "Quitting my job today actually felt like hope." This is Janelle making a big and scary decision that is actually Plan B.
She wrote a blog about this decision which I must share with you. What a brave woman Janelle has grown into. I am so proud. She's a Janelleful. You may also want to capture the prayer she included at the end as one you pray daily for a while.
Yesterday was Halloween. It is one of my favorite holidays. Trick or treating never happened for me as a kid. It was church "Hallelujah" parties every year. As much as I wanted in on the trick or treating, I was very content to attend these parties. It meant I got to dress up. I could be whoever I wanted and act in zany ways that I would never dare to on a regular day. I loved performing, because I loved being someone else.
The theater bug naturally bit me as well. I did theater from age 11-age 22. Even though I did not continue with traditional theater throughout college, I did sketch comedy through graduation. Theater meant something different to me throughout time. In middle school, it was a break from being bullied or dealing with major transitions at home. In high school, it was a break from being quiet because I barely spoke or showed my personality to anyone. I was a hider.
In college, I embraced my personality with all my peculiarities and imperfections. I made a lot of friends. I was part of a vibrant ministry and a vibrant community that formed a better sense of identity in me. My theatrics on stage died down. But I often wondered if I was turning my life into a stage. And I performed because maybe I was scared I would lose my friends and lose my popularity. And so in college I continued to be a hider even though I appeared a very loosely open person.
I love Halloween. And I realized I hate Halloween because I have to fight with that part of my person. The part that wants to dazzle and entertain. But not always be truly real. I was highly aware of that tension during that party I went to last night. I was almost going to go as a "skeleton story" to make fun of myself at parties or anything else where I engage in small talk, and give only the bare bones of my story. I ended up dressing as Velma from Scooby Doo. It was a fun night. But I woke up with all the shame of little things I said or did the night before behind my costume.
This cuts to this weird season of my life where I am in transition. I graduated from seminary and I am struggling to find a job where I could just provide for myself. I hate to say this– it does not feel completely empowering to women— but I just did not expect to be completely on my own at this point of my life. And I have been striving to do life well on my own, and I seem to be failing at it, in some sense. Because I am not making enough money, honestly. I am not living the life I imagined a 29-year-old out of grad school should be living. I have been hoping so much for a vocation, and also for a family.
I have a church family, but it just feels different when you are single, out of the seminary community a little bit more, and hundreds of miles away from your family who brought you up.
So the past couple months, my faith has been waning because I have been losing my grasp of hope. But it is more like I am hiding again. Hiding from hope. I try to think positive thoughts, but it is not always sincere to the concept of hope.
Hope, you have let me down.
Hope, I lost you. And I was afraid to believe in you.
But then I claimed you again.
But then did I raise my hopes too high??
But even though I have been hiding.. Hope sees me. Hope knows where I am.
It dangerous to hope.
But if I let go of it, I have nothing left.
It is dangerous to hope but I have to so I can survive.
I will be let down.
When my two deepest desires of this point of my life get fulfilled, I will be let down.
Life does not come without disappointment and grief.
It is a fight against cynicism to continue hoping. And the cynicism mask seems ideal to put on for people. It is a pretty good costume. It lets people know you are too cool to worry about the things you're worried about. Criticism is also a good costume. It lets people know that you are probably smarter than most people and you see through a lot of bull shit. Being positive is also a costume. It lets people know that you are nicer and sweeter than most people, and that nothing really bothers you.
And identity grounded in Jesus is the better way. Jesus is my only hope.
When I get a salaried job, I am gonna suffer a lot just from the hardness of the job. If I ever get married, I will suffer from the hardness of marriage. If I ever have children like I want, Oh God.
Jesus is the only constant. But why I do think it is so hard just to focus on him?
Because I get afraid to hope and I start hiding.
It is a dangerous business to hope but I need it to survive.
I made a choice to spend time surrendering this week. Surrendering is vulnerable. Surrender is the opposite of hiding. It is exposure. It is for once stepping back and being honest to God and to yourself. Control is hiding. I have spent most of this season in a closed-grasp control mode. Trying to do all of the things to get what I want. Forgetting what the real deal is– the big and glorious picture of God's kingdom and being part of bringing it in St. Louis. Surrendering is hoping. It is trusting the Lord and his plans for my life. And it is taking an active part in helping other people in His kingdom hope.
I opened my neglected journal and read this prayer Renee Higgins printed out for prayer time at South City Church. I will conclude with this because it is exactly where I want to be at right now:
"Why, O Lord, is it so hard for me to keep my heart directed towards you? Why do the many little things I want to do, and the many people I know, keep crowding into my mind, even during the hours that I am totally free to be with you and you alone? Why does my mind wander off in so many directions, and why does my heart desire the things that lead me astray? Are you not enough for me? Do I keep doubting your love and care, your mercy and grace? Do I keep wondering, in the center of my being, whether you will give me all 1 need if I just keep my eyes on you?
Please accept my distractions, my fatigue, my irritations, and my faithless wanderings. You know me more deeply and fully than I know myself. You love me with a greater love than 1 can love myself. You even offer me more than I can desire. Look at me, see me in all my misery and inner confusion, and let me sense your presence in the midst of my turmoil. All I can do is show myself to you. Yet, I am afraid to do so. I am afraid that you will reject me. But I know – with the knowledge of faith -that you desire to give me your love. The only thing you ask of me is not to hide from you, not to run away in despair, not to act as if you were a relentless despot.
Take my tired body, my confused mind, and my restless soul into your arms and give me rest, simple quiet rest. Do I ask too much too soon? I should not worry about that. You will let me know. Come, Lord Jesus, come. Amen."- Henri Nouwen
Read the book
A small book about being the people that hurting people need.
"This is the book that I wish I had had for people in my life that have suffered and needed me to be that compassionate friend. This is the book that I wish others in my life had read before they dismissed my pain, or compared it to theirs, or stumbled horribly through trying to lessen my pain because it was actually really about THEM not feeling comfortable with it."
Order here: https://bravester.com/new-book-from-bravester/