Love – The Vulnerable Fruit of the Spirit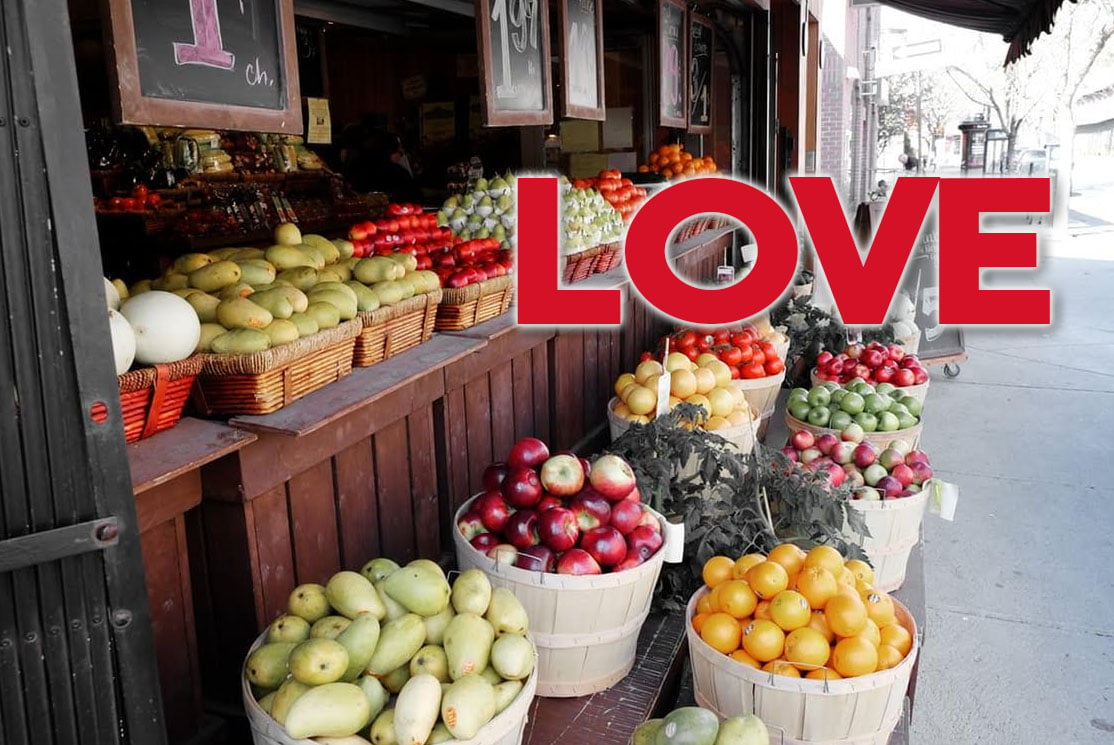 As C. S. Lewis famously said,
"To love at all is to be vulnerable. Love anything and your heart will certainly be wrung out and possibly broken."
"Along the way" of life (mentioned here first), a big "firework thought" went off in my head. Every one of the fruits of the spirit requires vulnerability. Every one of them. Yikers! No wonder the Christian life is so hard!
This is a series on each one of those fruits of the spirit. I believe this is going to be eye-opening on many levels.
The fruits of the spirit are found in Galatians 5:22-23. But the fruit of the Spirit is love, joy, peace, patience, kindness, goodness, faithfulness, gentleness and self-control. Against such things there is no law. They get their name from the hope that if we live our lives according to God's way the result should be this fruit in our lives. (Read the rest of Galatians 5 too for more of this practicality.) This is all good and sensible. It has been taught for centuries because there is such practicality in it. And we certainly do love checklists for our lives.
Some people you meet do exhibit these fruits in their lives—and you admire them. You would even say they are brave souls.
Then there are the many other people you meet who frustratingly do not exhibit these fruits in their lives. Even after professing to live a life of faith for 50 years. And maybe this is you also. Now I understand more why. Each one of these fruits requires vulnerability. And no one likes being in vulnerability. No wonder everyone tries to control their faith.
So we have this 9-part series on each one of the fruits revealing this bravery that is a part of it. We are starting with love and what C. S. Lewis has said, "To love at all is to be vulnerable. Love anything and your heart will certainly be wrung out and possibly broken."
Love hurts. Love also brings great joys (which happens to be next on the list). It is the heartbreak that holds us back from loving.
"It's no wonder we all try to control each other. Sometimes relationships feel like we're trying to emotionally cuddle with each other at the same time we're tearing each other down. But love doesn't control, and I suppose that's why it's the ultimate risk. In the end, we have to hope the person we're giving our heart to won't break it, and be willing to forgive them when they do, even as they will forgive us. Real love stories don't have dictators, they have participants. Love is an ever-changing, complicated, choose-your-own adventure narrative that offers the world but guarantees nothing. " –Donald Miller, Scary Close, pp. 97-98
And Donald Miller sums up nicely why we are so afraid of love.
Yet we love a God who is love (1 John 4:16 and numerous other verses) and who calls us to love as he has loved us. Jesus taught this love commandment, according to John, right after he washed the disciples feet and was preparing them for the upcoming frightful days of his crucifixion. Jesus said, A new command I give you: Love one another. As I have loved you, so you must love one another. By this everyone will know that you are my disciples, if you love one another. John 13:34-35. Then you read to verse 38 and Jesus predicts that Peter will betray him.
This love commandment follows immediately to heartbreak.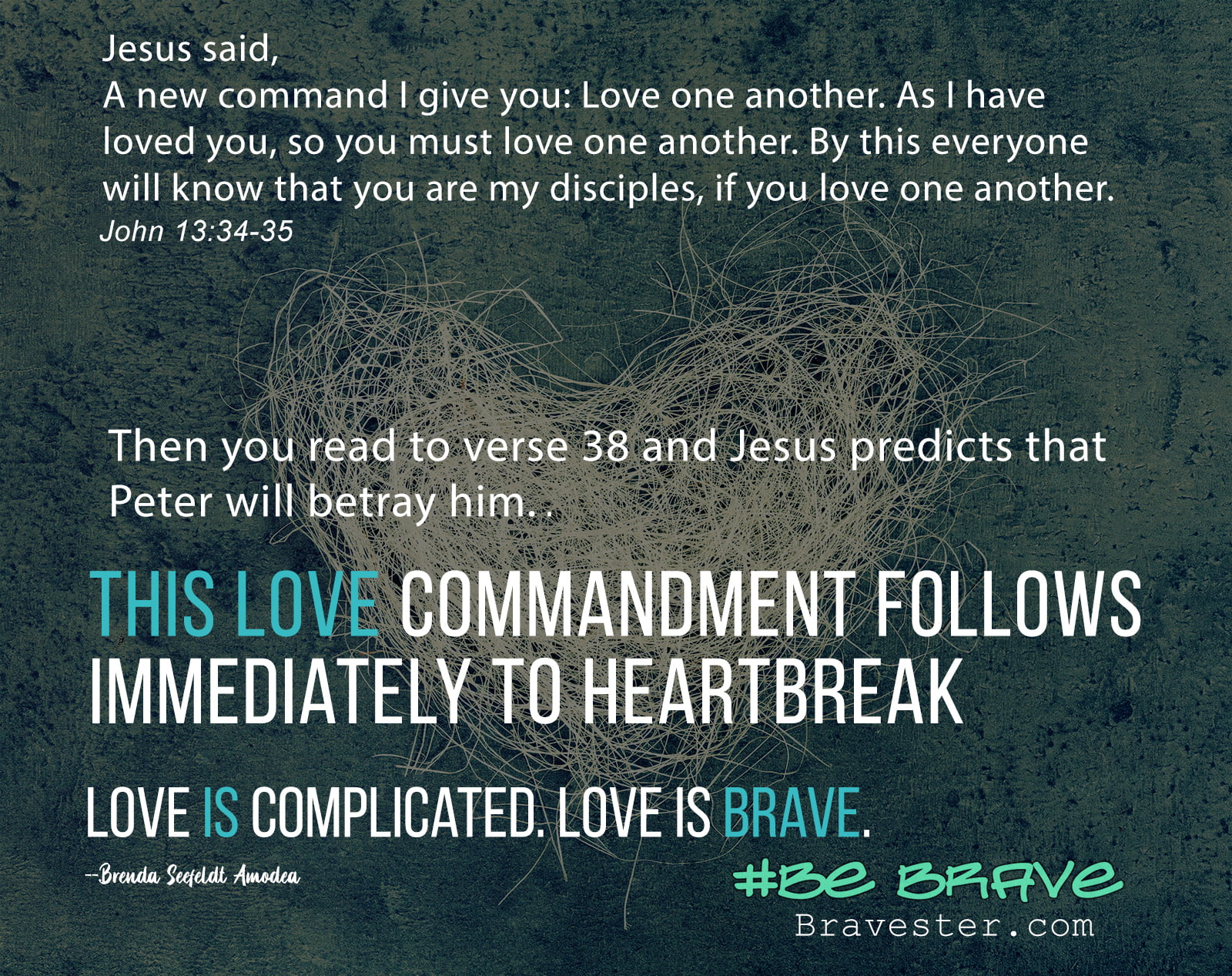 "The brokenhearted are indeed the bravest among us—they dared to love, and they dared to forgive." as quoted Dr. Brene Brown in Rising Strong. My life quote.
It would seem easier to love safely. Is that even possible? Is that love? Not if you line it up to the famous verses found in 1 Corinthians 13:4-8. Each one of those "love is…" statements puts you at risk of a broken heart. Read that section now and you will see it.
We deeply desire to be lovable. Yet letting yourself be loved is putting yourself in vulnerability and surrender. Letting yourself be loved gives you over to someone's mercy and to trust that they will keep loving you, that they will love you the way you want to be loved, and that they won't break your heart.
Do you see why love is so vulnerable?
Fear and control get in the way of love. Though fear is often wrongly described as love. It is the justification of fear that is used to try to control your world, to try to control the outcome. Fear is still fear and fear and love don't mix. There is no fear in love. But perfect love drives out fear, because fear has to do with punishment. The one who fears is not made perfect in love. 1 John 4:18.
If you are with someone because you are afraid of your life without him/her or if you are afraid of being with him/her, there is no real love there. You may think there is love as a way to cope through the situation but the truth is very different. Perfect love drives out fear, not keeps you in it.
Yes, to love is risky. This is vulnerable. You are worthy of being loved. You are worthy to love others. You are worthy (and needed) to love the world. And you will survive the heartbreak. God has hard-wired us for pain.
Ann Voskamp wrote this in her book, The Broken Way, p. 55 (a book which I have quoted often).
"Who knows why God allows heartbreak, but the answer must be important enough because God allows His heart to break too."
God loves us perfectly. And His heart breaks too…for us.
It was just before the Passover Festival. Jesus knew that the hour had come for him to leave this world and go to the Father. John recorded this observation about Jesus, Having loved his own who were in the world, he loved them to the end. John 13:1. We are loved to the end. You are loved to the end. Now go love one another. Be brave. The world needs the heartbreak you risk.
Read the book
A small book about being the people that hurting people need.
"This is the book that I wish I had had for people in my life that have suffered and needed me to be that compassionate friend. This is the book that I wish others in my life had read before they dismissed my pain, or compared it to theirs, or stumbled horribly through trying to lessen my pain because it was actually really about THEM not feeling comfortable with it."
Order here: https://bravester.com/new-book-from-bravester/