The Beauty of the Ordinary
Hello beautiful ordinary person.
Ordinary is an adjective we generally don't like. We want to be extraordinary. Our souls weren't made for extraordinary. That is an extra level. (Do you see it?)
Eugene Peterson defined faith like this,
"Your life of faith is a long obedience in the same direction."
That is a lot of ordinary. This is not doing those "big things" for God that make all the great stories. Again, our souls would become too exhausted. This is the ordinary decisions moving in the same direction.
This doesn't sound like an extraordinary life until you realize that Eugene Peterson practiced this. When you sum up his life, now in death, his life was extraordinary while his days were just ordinary.
This is all about Salesian Spirituality. This is an ancient practice. This is a Catholic practice. This is common sense.
Salesian Spirituality is named after St. Francis de Sales. He wrote the book, Invitation to the Devout Life, in 1609. Francis de Sales believed the then revolutionary idea that holiness is possible for everyone, not just the professionally religious monks and nuns. Thank God for this revolutionary idea!
The Salesian tradition values doing the little things in the midst of ordinary and busy lives. In a very real sense, the person lives Jesus by "doing all ordinary things in an extraordinary way." How we "live Jesus" is by doing the little things—or little virtues as de Sales named them. These are: Kindness, Gentleness, Thoughtful Concern for Others, Humility, Simplicity, Hospitality, Gratitude, Patience, Generosity, Honesty.
Those sound very ordinary.
For St. Francis de Sales, ordinary paves the way to holiness. These are those small, deliberate tweaks we put into practice to lead our brains. These are the fruits of the Spirit that make the world around us a better place.
When you regularly practice these little virtues, according to de Sales, your life then leads to those big virtues of bravery, boldness, prophetic imagination–which are generally only needed a few times in a typical person's life.
When you practice the ordinary, you are ready for those brave decisions you will be called on to make.
We love those brave stories. We tell those stories over and over. But they are not a part of the every day. Our souls couldn't sustain that.
As old-school monastics have long figured out, passion can only get you so far when you encounter inevitable struggle and pain. Sigh, none of us are exempt from pain. We need to practice these ordinary little virtues to prepare us and restore us and keep us moving in the same direction. (And won't the world be in a better place because of them?)
A good growing slower habit is pausing every day to recognize when you are practicing these little virtues.
When our identity is found in Jesus, we are maturing into who we already are. We are free to find meaning in the ordinary as we daily live these little virtues.
This is the gift of the way of Jesus: We have purpose regardless of our roles. Each task, each relationship has eternal meaning.
Your identity is not in your work.
Your worth is not in your performance.
Your value is not in your calling.
Your identity and value is simply: I am a loved child of God. There are no qualifiers for this. I cannot be more loved if I perform better. I cannot be more covered by his blood if I try harder. I cannot be more free in his grace if I try more. I am simply loved.
The beauty of finding our identity in Christ is that our identity is always secure because it's not grounded in our efforts, but based on the perfect performance of our Savior.
Hello beautiful ordinary person. How will you create beauty today with those little virtues?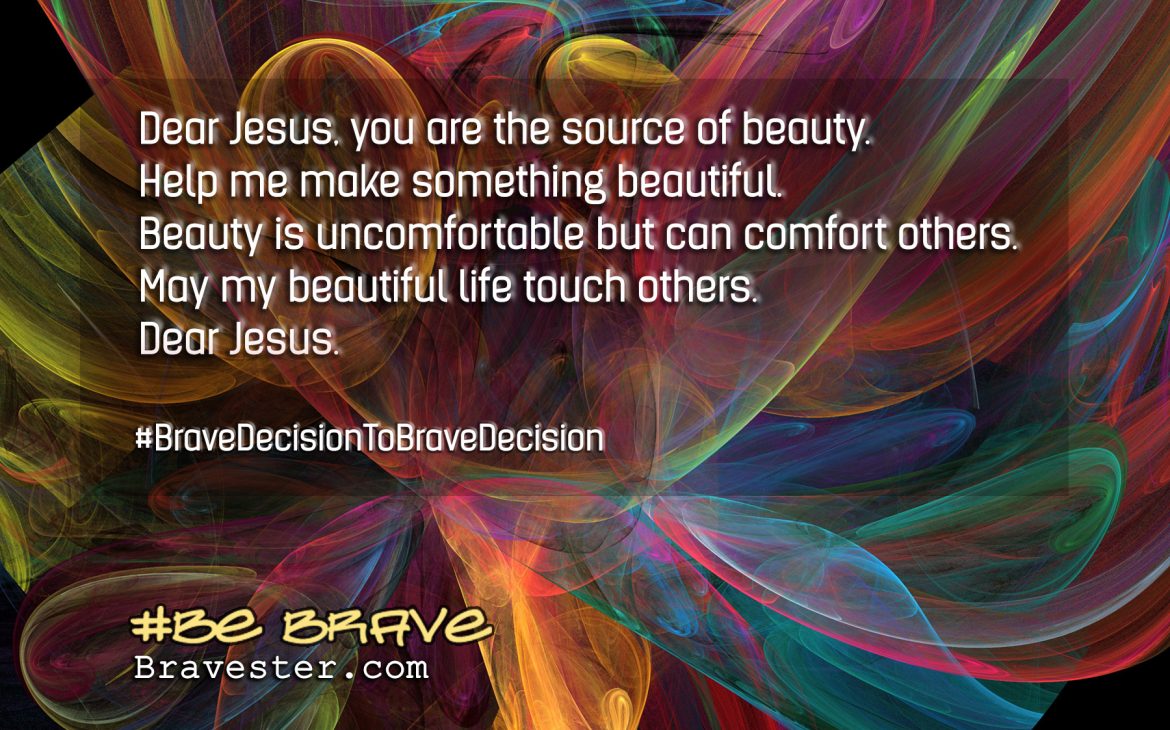 Read the book
A small book about being the people that hurting people need.
"This is the book that I wish I had had for people in my life that have suffered and needed me to be that compassionate friend. This is the book that I wish others in my life had read before they dismissed my pain, or compared it to theirs, or stumbled horribly through trying to lessen my pain because it was actually really about THEM not feeling comfortable with it."
Order here: https://bravester.com/new-book-from-bravester/